All our customers love a good conservatory all year round, especially during the summer months, and we know you will too! A conservatory allows you to enjoy views of your garden and glorious blue skies without worrying about those pesky summer wasps.
It sounds lovely, doesn't it?
However, have you noticed your current conservatory roof looking a bit worse for wear? Has your conservatory roof started leaking and you're not too sure whether to repair or replace it? These are tell-tale signs that it is time to replace your conservatory roof. And after all, a conservatory is not complete without a good roof which is why we wrote a blog about it – to help you identify if your conservatory roof ultimately needs replacing or repairing.
Should I replace my conservatory roof?
Here we Renaissance Conservatories we believe that there are 3 benefits of replacing your conservatory roof (and why it saves you money!) from making it a more comfortable space for you and your family to enjoy, through to adding value to your home, there are many benefits.
But 'what is the best conservatory roof?' we hear you ask. This is a common question that a lot of our customers ask us, so let us tell you the benefits of our two most popular conservatory roof types: tiled conservatory roofs, and glass conservatory roofs.
A tiled conservatory roof for your Devon home
Here at Renaissance Conservatories, we are proud to offer the ever-popular and high-performing SupaLite tiled roof system. And we know that it is a firm favourite amongst our customers too, from our customers in Paignton to the picturesque South Devon village of Marldon, a tiled conservatory roof always remains a firm favourite.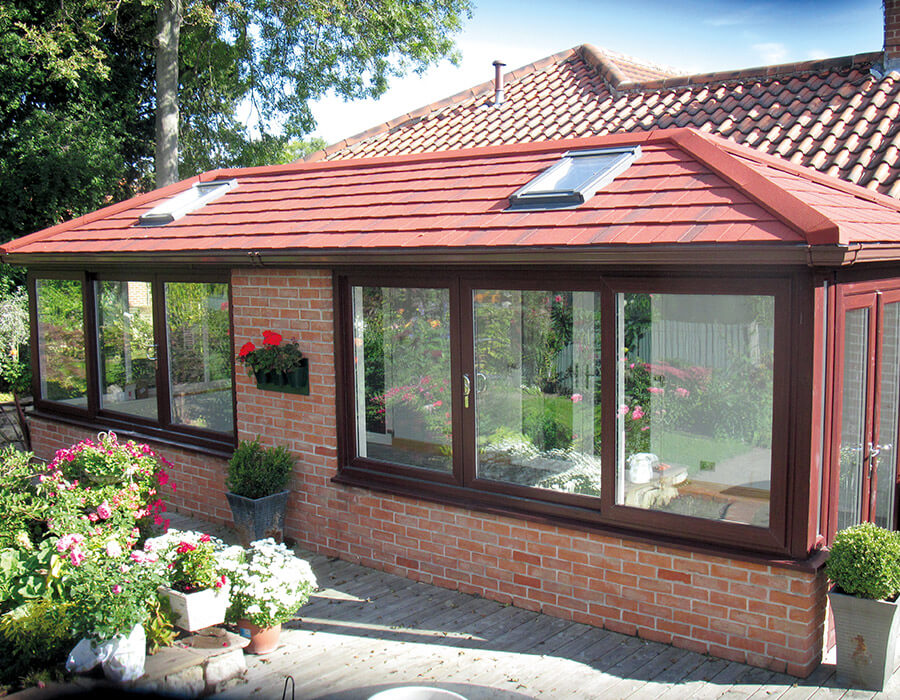 Why are tiled conservatory roofs so good?
Compatible with all conservatory styles and shapes, every home can enjoy one of these transforming roofs that adds value and kerb appeal. Blending seamlessly with your house, opting for a tiled conservatory roof will make your conservatory look and feel more like an extension to your home. Something we know our customers love.
And what is even better is that with tiles that are seven times lighter than traditional tiles, your existing frame will be able to hold this high-performance roof with no problems.
Does a tiled conservatory roof make a conservatory warmer? A lot of our customers ask us this question, so we are confident that you would like to know the answer too! The excellent thermal efficiency of a tiled conservatory roof can achieve incredible U-values of 0.18, meaning you will not have to worry about temperature fluctuations and can relax in a lovely, insulated extension to your home.
A glass conservatory roof for your home in Devon
Do you want to fill your conservatory with natural light and give you a sense of open space? "Yes" we hear you say – this is the answer a lot of our customers gave us too, which is why we have the perfect solution for you: a glass conservatory roof.
Why are glass conservatory roofs so good? The invention of glass glazing has turned glass into a powerhouse of thermal efficiency, meaning glass conservatories are no longer simply expensive greenhouses. They are in fact stylish, high-performing, and thermally efficient roof replacements manufactured to suit your conservatory.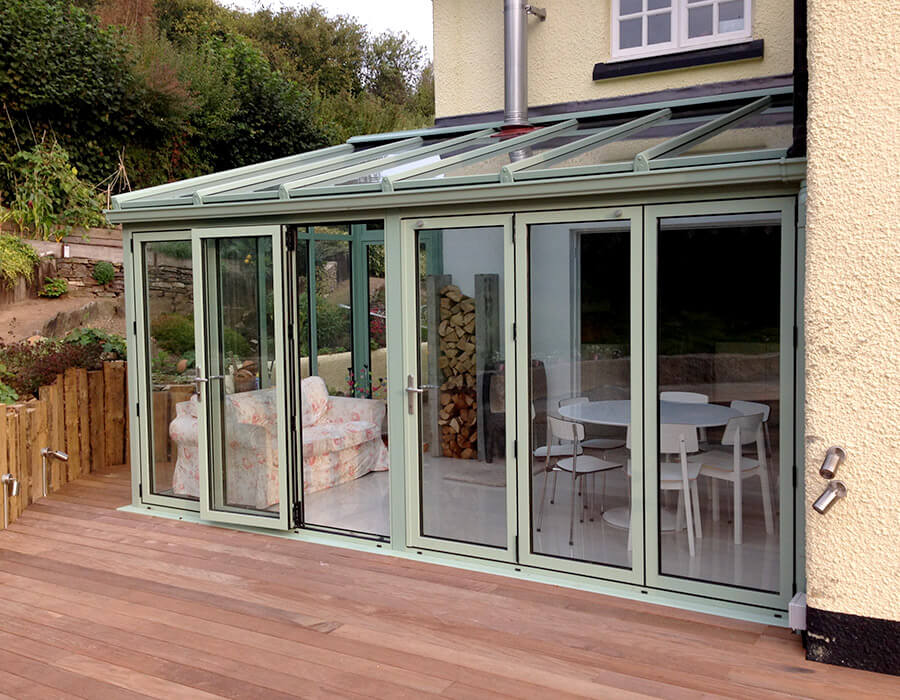 Are you worried about cleaning the glass? Worry not – our ever-popular self-cleaning glass finish is available on most of our glazing options. This finish breaks down dirt, grime, and all the nasty stuff, keeping your glass conservatory roof looking as good as new.
Do I need planning permission to put a new roof on my conservatory?
How big can you build a conservatory without planning permission? Provided you meet certain specifications, swapping out your old conservatory roof for a new one can be done without needing to apply for planning permission. But it may still need building regulation approval.
What is the difference between planning permission and building regulations? Planning permission is concerned with changes to your home that may have an impact on the wider community in which you live, whereas building regulations refer to standards set to ensure your conservatory is able to withstand the weight of your new conservatory roof.
To give you peace of mind, we would always advise you check with your local council to be on the safe side.
Buy a modern conservatory in Devon
We specialise in conservatories and will work with you to ensure that you get a spacious, stylish, and stunning extension to your home.
How much does it cost to buy a conservatory? Get a quote from us now or alternatively, get in touch with our expert team of specialists on 01626 333 393 today.
Read our related blogs:
Why choose a conservatory from Renaissance Conservatories
5 tips to make sure your new conservatory roof will be installed correctly