As most of us have spent the past 10 months living and working in our homes, the space where we once solely relaxed after a day's work has been transformed into a multi-functional space of eating, exercising, and educating the children.
So, do you find yourself craving increased floor space? If the answer is "yes" then you are not alone – a lot of our customers were craving this too.
That is before we offered them a solution: a conservatory. Or even an upgrade to their existing conservatory. A space where you can escape, enjoy your surroundings, and embrace the quietness.
Why should I choose to buy a conservatory from Renaissance Conservatories?
The name says it all, Renaissance Conservatories. From tiled roof conservatories to a lean-to conservatory, we specialise in a range of different conservatory styles and will work with you to ensure that you have a spacious, stylish, and stunning extension for your home.
But don't just take our word for it. Here are some words from Mr. and Mrs. Hewlett after we transformed their conservatory:
'I can't say enough about how well Renaissance looked after our project from first greeting to final sign off!!
The roof system installed was impressive and has transformed our previously dilapidated conservatory into a high-end extra room rather than what it was before. We can now enjoy evenings relaxing in this space and are getting way more use out of it than ever dreamed of. The addition of lights and power and a very flexible work crew meant I cannot recommend Renaissance highly enough."
How does the conservatory process work?
When you book a virtual appointment with us, our Director Ben (yes, you read that right – our director likes to get involved and meet our customers) will talk you through our product range whilst discussing all of your conservatory ideas and potential colour themes. He will also provide you with a free no-obligation conservatory cost.
After you've had time to consider the conservatory prices and are ready to go ahead, then an experienced surveyor will visit to check the measurements and installation will take place within a few weeks at a convenient date and time for you.
Just think about it for a moment. With our amazing lead times, you could have a beautiful new "wow-factor" conservatory very soon.
Can I design my own conservatory?
Yes, at Renaissance Conservatories we understand the importance that one size does not fit all, so give you the freedom to design your own conservatory, or even design your conservatory roof replacement, exactly how you would like it. From different frames, colours, and style choices, we can provide CAD design drawings to help you visualise how your dream conservatory will look.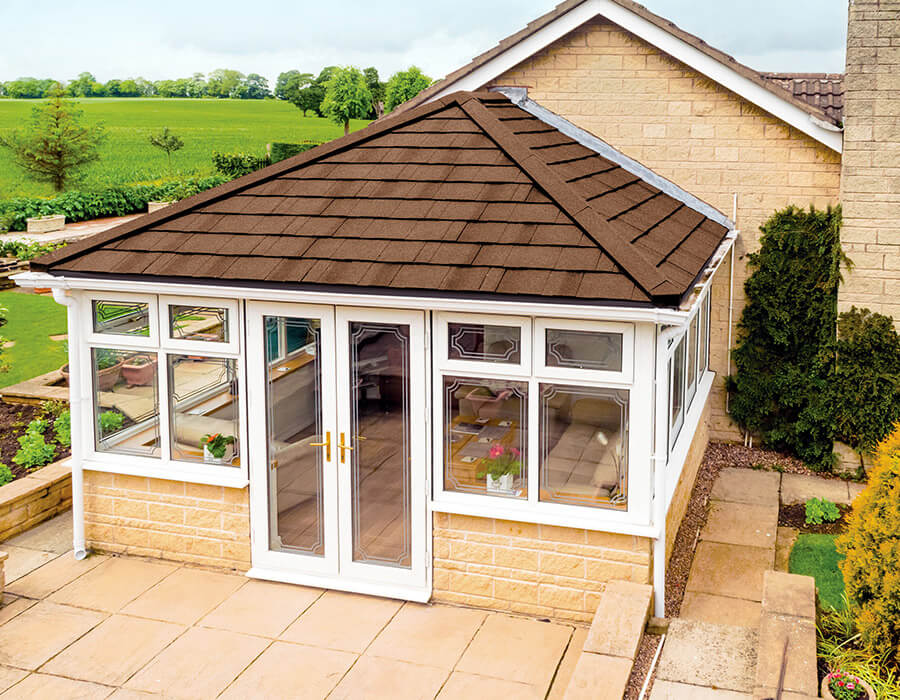 Are different conservatory styles available for me to choose from?
Yes, we have a wide range of conservatories for you to choose from.
From the simplistic style of a lean-to conservatory which is perfect for modest homes and bungalows, to a Victorian-style conservatory that boast a timeless, classic feel, and an Edwardian style conservatory that is compatible with most modern homes. There's plenty of conservatory styles for you to choose from.
I already have a conservatory, can I replace the conservatory roof?
Have you noticed that your conservatory is looking a little worse for wear? If the answer is "yes", then worry not as you can replace your conservatory roof!
"But what conservatory roof is best?" We understand that finding the best roof for your conservatory can be very overwhelming, especially when provided with amazing options to choose from such as our Supalife conservatory tiled roof which is one of the best-tiled conservatory roof options available, to our Liniar conservatory glass roof which is crafted to handle the worst of the Devon climate.
We want to make the process of choosing your new conservatory roof, and conservatory, as easy as possible which is why we're here to help you. If you would like more information on replacing your conservatory roof, contact us today to arrange your free, no-obligation quote.
What areas do you serve?
To ensure that we provide our clients with high-quality, highly efficient advice, we only serve the South Devon area. This allows us to give you plenty of time to talk through your conservatory ideas, whilst showing you our wide range of conservatories; giving you the freedom and flexibility to choose one that will best suit your needs.
So, if you're looking for something like the aluminium conservatory or SupaLite roof we installed for the Hewletts, or even anything else such as windows or doors, please don't hesitate to contact us.
Read our related blogs:
Case study: aluminium conservatory & supalite tiled roof in Teign Village, Devon