For some, the word 'conservatory' summons thoughts of white frames, chilly winters and simmering summers. As advancements in technology and manufacturing techniques have drastically improved the modern conservatory's thermal efficiency, there are also a plethora of customisable choices to design a bespoke creation waiting for you to infuse with personality.
Creative thinkers, such as Garden designer Butter Wakefield, have turned to a conservatory to add a beautiful creative space. This is because they provide a seamless link between the interior and exterior of their home. One of the primary ways to get in touch with your creative side when it comes to designing your ideal conservatory is to come up with a canvas that you can build on.
This begins by picking the best colour for your conservatory. So, what is the best colour for a conservatory? While the best colour for a conservatory may be subjective, here are our top five colour ideas for your conservatory. Which colour would you choose?
Oak conservatory
Inspired by the real deal, Golden Oak is a stunning, natural colour that stirs thoughts of countryside living. However, that doesn't mean that it's only suited to scenic rural properties. This organic hue complements properties in residential environments rich with greenery too.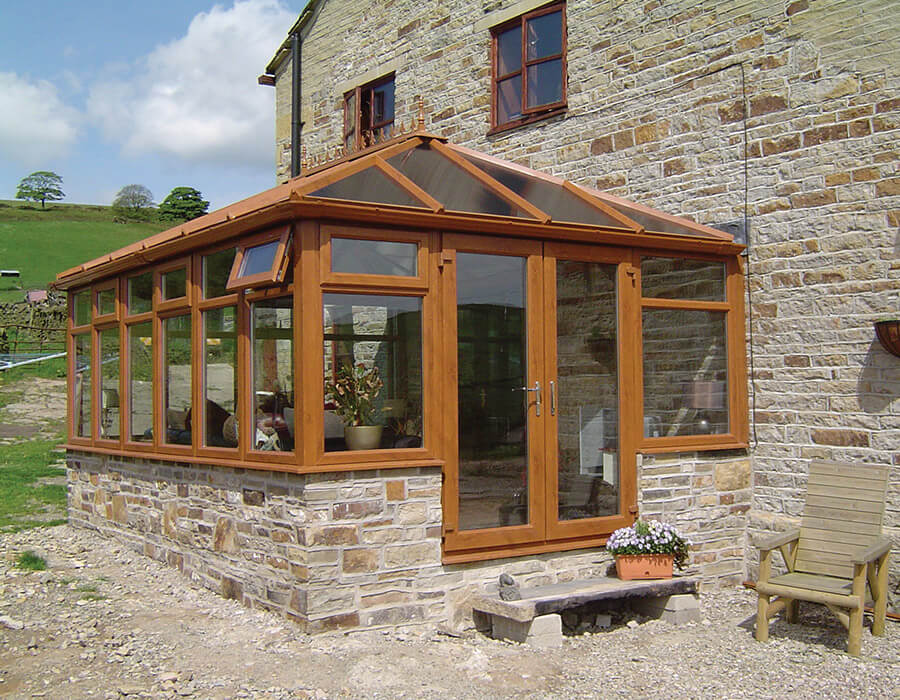 In this example, we have an Edwardian style conservatory. This style is a classic rectangular conservatory style that compromises a flat front, more subdued lines and a symmetrical shape which means that floor space is maximised. It also has a flat front that is more in-keeping with the style's symmetrical tidy design.
It's a uPVC conservatory that gives the home a wood aesthetic without the maintenance requirements of the real deal.
Black conservatory
The colour Black symbolises prestige, authority and elegance, much like the door on 10 Downing Street, London. There's a very intriguing juxtaposition between a conservatory and the colour black: one is known for providing an abundance of light and the other is associated with the absence of light. Combing the two delivers a fascinating end product that suits contemporary and traditional homes alike. Have a look at a recent case study where the Emmerson family opted for black on the exterior of their conservatory frame, whilst opting for white on the interior. It looks beautiful.
Like all our colours, black is available in different shades from the strongest Jet Black (RAL 9005) to the softer Signal Black (RAL 9004). We are confident that we have a shade of black to suit you and your interior design style.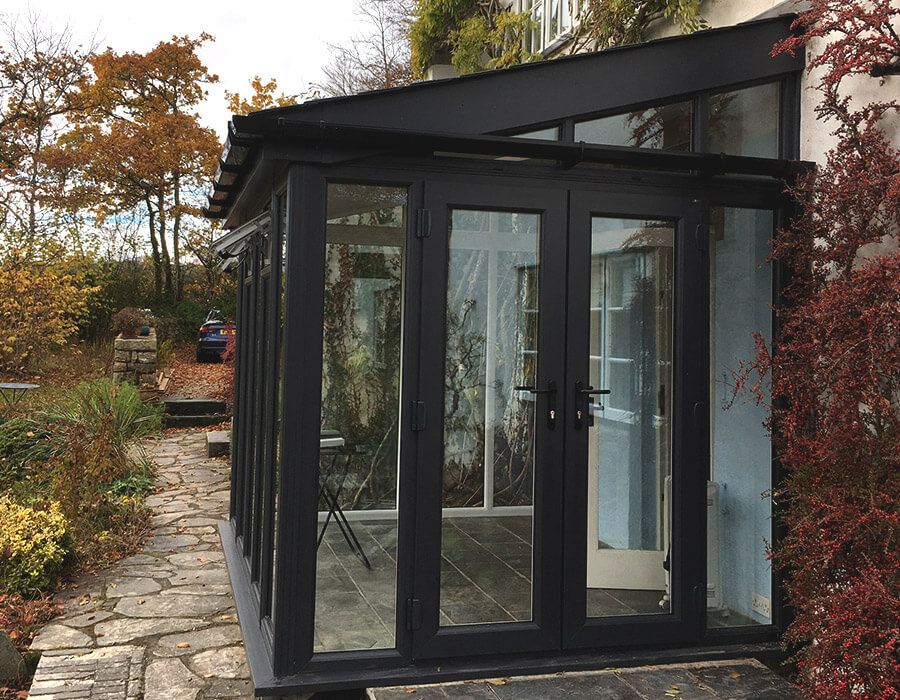 Here, we have a small Lean-To style conservatory. The style, also known as Mediterranean or sun-room is the simplest design of the different conservatory styles that can create a useful and versatile space on a budget. It has a single-sloped roof with the longer wall adjoined to the house, making it a useful style for fitting into a corner area. Made from thermally efficient uPVC to give your home a boost of living space, it also maintains a comfortable temperature throughout the year.
Green conservatory
Green is said to be a restful colour for the human eye. It is a colour associated with freshness and is packed with natural overtones. The colour is also said to signify luck, success and ambition.
Out of all our alternative colours, Chartwell Green is the shade of green that is used most commonly in home improvement projects. It's a light and tranquil colour that gives even the most modern homes a vintage flair.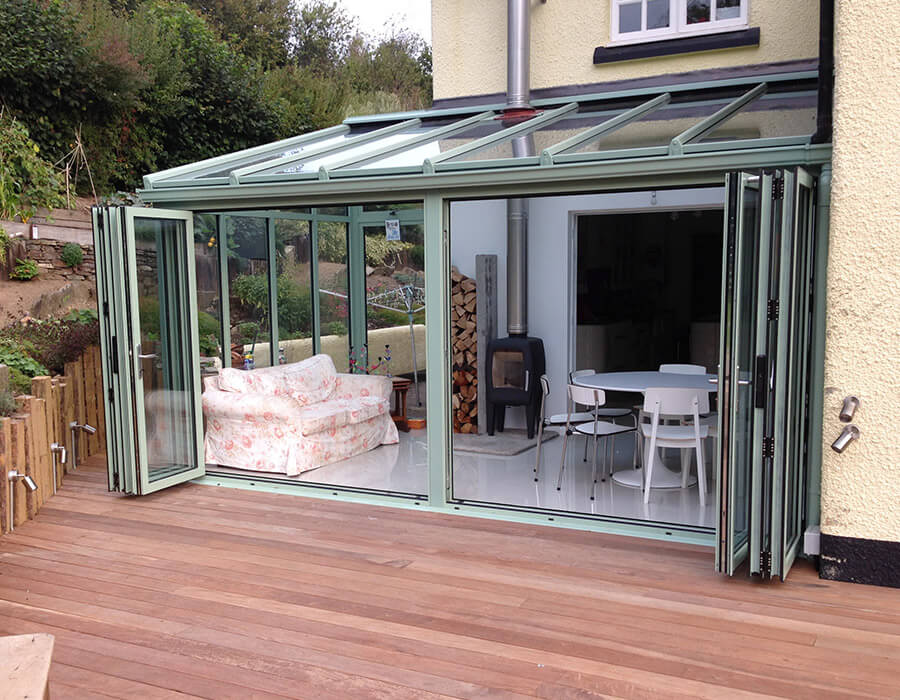 This conservatory was installed in Dartmoor for Mr Jones and his family. The Chartwell Green Lean-To conservatory was made with ultra-slim aluminium frames to make the most of the stunning Devon surroundings. It also features 2 sets of aluminium bifold doors that create a smooth link between the home and garden. To enhance the final look, high-performance Celsius Glass – the highest performing conservatory glass in the industry – was used in the glass roof for optimal thermal efficiency.
Grey conservatory
Another shade that gives the home a beautiful and stylish finish. The colour has a wide spectrum that covers more subtle, lighter colours or neutral darker hues. From Anthracite Grey (RAL 7016) to Concrete Grey (RAL 7023), each shade gives the conservatory a slightly different, but undoubtedly modern finish and we are confident that we have a shade to suit you.
Another prime example of the Lean-To conservatory style. Besides its contemporary look, this conservatory and its placement in the garden makes it an ideal sun trap for the homeowners. The French doors can be fully opened for ventilation, not just for the conservatory, but throughout the home too.
Rosewood uPVC conservatory
Another woodgrain colour, Rosewood is a truly eye-catching and natural shade that suits period and contemporary properties. Expertly crafted frames that offer the appearance and performance of timber, without the maintenance and the stress of wear and tear over time.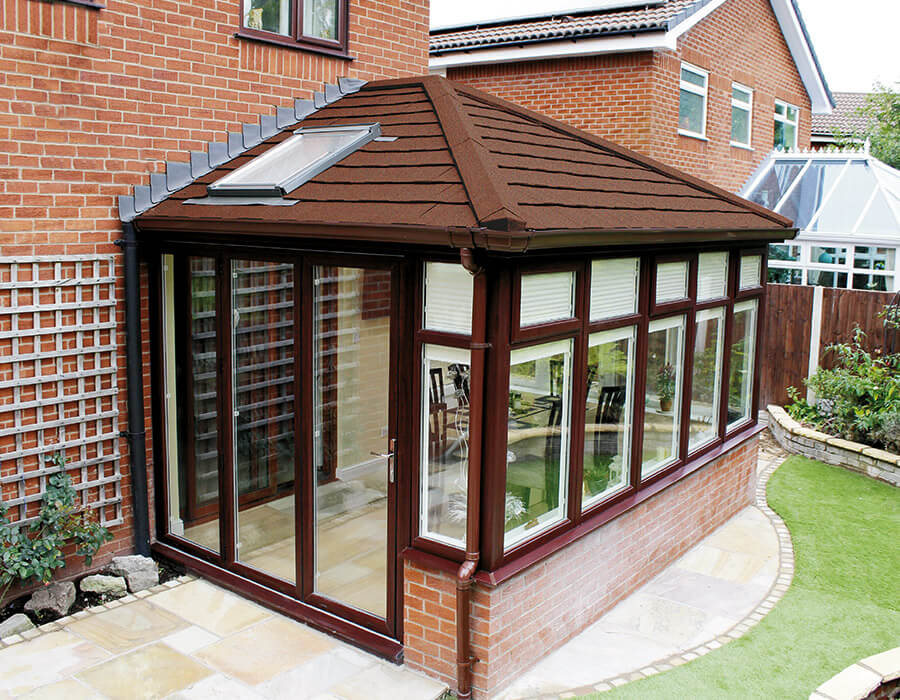 The owners in this example opted for an Edwardian style conservatory with a Supalite tiled roof. A tiled roof offers seven different tile options, from Pewter Grey to Walnut, to match your existing home.
Another benefit of a Supalite tiled roof is that a beautiful roof light can be integrated into the roof. This will ultimately increase the amount of natural sunlight that enters your living space, making it appear bigger and fresher – something we know our customers love.
With its capacity for insulation and U-Values as low as 0.18, tiled roofs offer outstanding thermal efficiency that rivals that of a regular house roof.
Conservatory roof and colour ideas for your Devon home
Conservatories from Renaissance are perfectly suited and tailor-made for your home. From warm tiled roofs to stunning glass and lantern roofs, you can make sure that every aspect reflects your idea of a dream home. We're based in Newton Abbot and serve the whole of South Devon, view the areas we serve to see if we're able to help you improve your home.
With energy-efficient glass and sturdy & durable frames, your new conservatory will be the perfect room to spend time in all year round. Get in touch with us today to find the perfect conservatory for your budget and home.
Read our related blogs:
Why choose a conservatory from Renaissance Conservatories
5 tips to make sure your new conservatory roof will be installed correctly