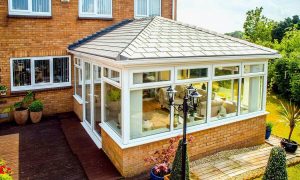 Replacing your conservatory roof shouldn't be seen as just another dull necessity, it should instead be seen as an upgrade that stands to improve the quality of life of everyone who uses it. Apart from the substantial amount of money you'll be saving, high-quality modern roofing will also provide you with a number of benefits you might not have previously considered, which makes a conservatory roof replacement an invaluable investment for your home.
A more stylish conservatory
Replacing your current conservatory roof with one of Renaissance Conservatories' tiled or glass options will massively enhance the extension's overall aesthetics. When it comes to tiled roofs, we offer the highly popular SupaLite tiled roof system. A SupaLite tiled roof system is bespoke to your specific conservatory style and shape and also has a variety of tile options. You can choose from 7 distinct and varied tile options, each with different textures and colours. There's even the option for roof lights, which can be used to make the most of natural sunlight.
A more comfortable conservatory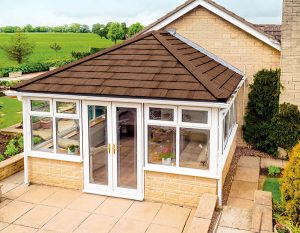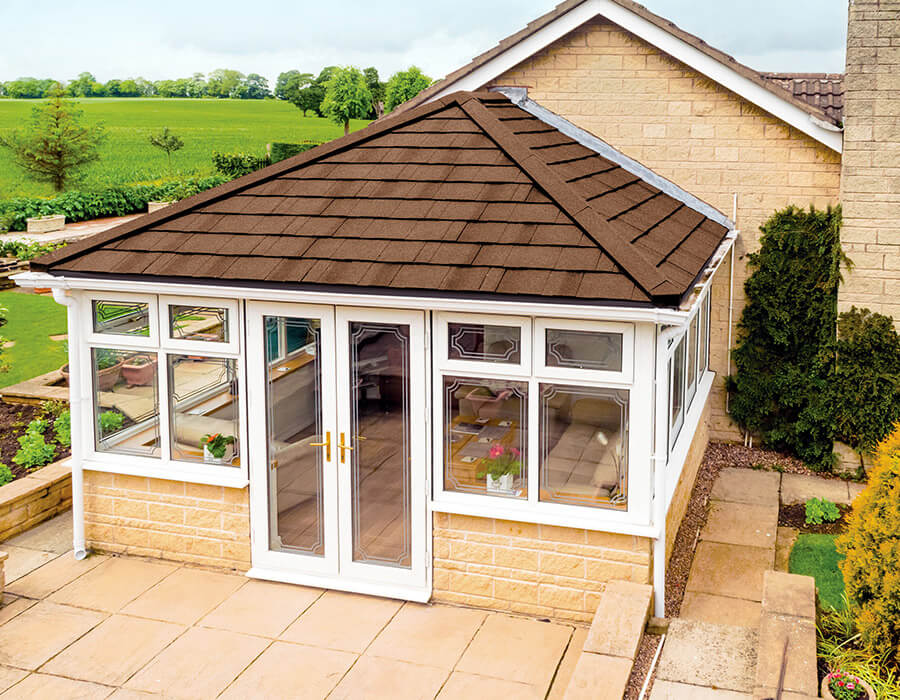 Your current roof might not be keeping your conservatory as usable as it could be. If you find it too hot in the summer and too cold in the winter, this is more than likely due to your roof performing its duty poorly. Your conservatory roof shouldn't just be keeping your conservatory dry, it also plays a role in the entire room's temperature. The problem normally occurs if your current conservatory roof is an outdated polycarbonate one. Both our glass and tiled roofs combat this problem in different ways.
Our glass conservatory roofs are able to retain warmth in the winter and let in ample light and warmth during the summer. As the glass we use is reflective, extreme heat won't be able to enter, which means your conservatory won't get unbearably hot. The market-leading Celsius glass we use makes quick work of the winter cold thanks to its superior thermal insulation. The glass is also tinted, which minimises glare by up to 68% and helps keep the conservatory cooler.
The SupaLite tiled conservatory roofs we offer are also effective at keeping your conservatory at a reasonable temperature. Their incredibly low u-values of 0.18 will make your conservatory a pleasant place to be all year round.
Add value to your home
A replacement conservatory roof can add value to your home thanks to the increased usability and aesthetic appeal that your conservatory will now have. Having a high-quality conservatory roof like the ones provided by Renaissance Conservatories will allow your home to fetch a higher price and also sell quicker as an impressive conservatory is very appealing to most buyers.
Why a replacement conservatory roof will save you money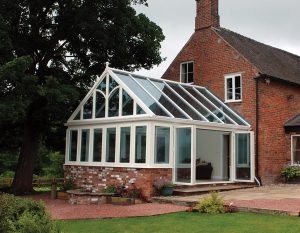 Beyond the increased value of your home, a replacement conservatory roof will end up saving you money thanks to the thermal efficiency. If your conservatory roof has poor thermal efficiency, you can find yourself having to do more to heat it up, and even if you decide to just not use your conservatory, the cold can seep into the rest of your house so you'll find yourself using more heating. This results in pricier heating bills. A replacement conservatory roof fixes this issue, meaning you'll be saving money in the long run.
Conservatories Roof Replacement Devon
If you're looking for a high-quality conservatory roof with all of the previously mentioned benefits, then a roof from us will suit you. We do far more than just conservatory roofs though, we offer a range of conservatories, orangeries, windows, doors, and other kinds of extensions. We're based in Newton Abbot and serve the whole of South Devon, view the areas we serve to see if we're able to help you improve your home. For more information, contact us or browse our website.