An ideal way to extend your space, small conservatories are cost-effective, can add value to your home, and rarely need planning permission. Whether you have a small garden or just want to create a cosy place to relax, the size of a small conservatory is generally 8'x8′. However, the most popular size for a small conservatory is 10'x8′.
A small lean-to conservatory will be the most suitable choice for restricted spaces. The floorplan is rectangular, and the roof is flat and slanted, which is especially beneficial for low buildings such as a bungalow. Whilst incredibly stunning, Victorian conservatories and other styles of glazed extensions have faceted sides, which makes them virtually circular in shape. If you opt for a small Victorian conservatory, you could have trouble working out the internal furniture layout and potentially make your new space feel a bit overcrowded. In addition, the high pitched or vaulted roof of a Victorian conservatory could make it look top-heavy.
How do you style a small conservatory?
Styling your small conservatory correctly can completely transform your space. It will turn a bare room into an inviting and snug haven. But we often get asked; how can I make my conservatory feel cosy? And what is the best colour for a small conservatory? Here are 3 top tips on how to style a small conservatory.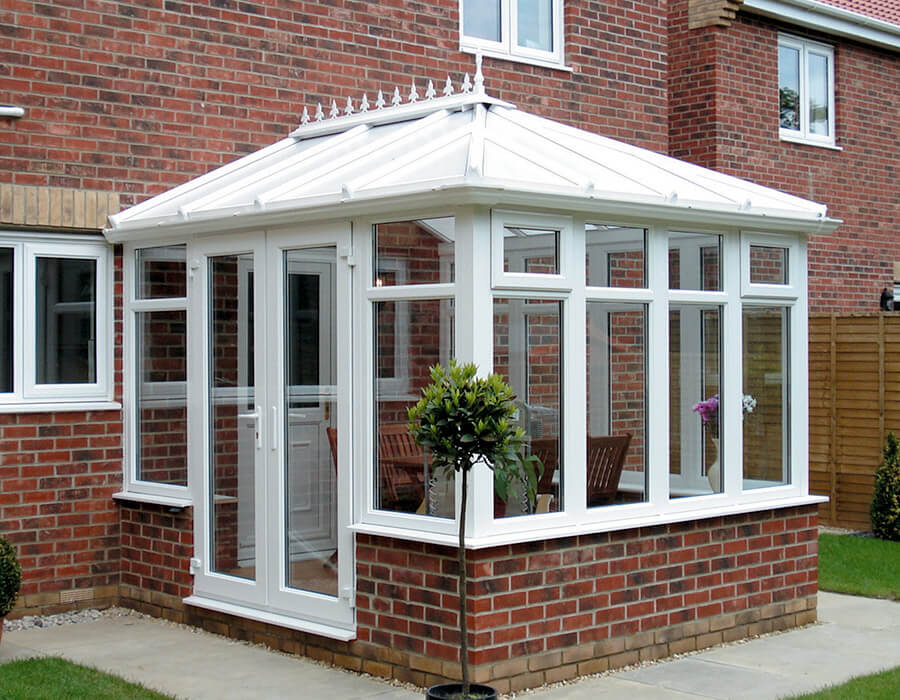 1. Do not cram furniture in
Avoid large furniture pieces like sofas and freestanding cupboards. Instead, choose smaller neutral pieces that can be easily moved around, like armchairs, little side tables, and futons. If you want to add some colour and give your conservatory some character, you can accessorise with blankets, cushions, plants, and a large rug. A rug can also help zone a small conservatory and help keep your feet warm if you have hard flooring!
2. Keep the décor neutral
Although light will flood into your small conservatory during the day, they can sometimes feel enclosed during the winter and evenings. By choosing pale, neutral colours for the walls, floors, and furniture your space will always feel airy and spacious. Ensure you have lots of warm lighting to keep your conservatory's ambience cosy during the evenings. Candles and small lamps are ideal!
3. Opt for the right style of doors
The right style of doors can make all the difference to the practicality of your conservatory. For example, if you have a small garden then French doors may not be the best option as they will take up a little bit of space within the garden, when open. Instead, opt for enlightening bifold doors as they can reveal up to 90% of their width. Thanks to their space-saving opening mechanism, even the smallest garden and conservatory can feel distinctly bigger with aluminium bifold doors!
Beautifully designed conservatories for homes in Devon
With many designs available, we can provide CAD design drawings to help you visualise how your conservatory will look: ideal for those who are restricted on space or do not particularly know what they are looking for! From classic white to woodgrain effects, you can create any look you want. For professional advice, and more information about our stunning conservatories, contact us today or call us on 01626 333 393.