When the weather outside is awful, there's nothing better than snuggling down inside the safety of your home. However, this might not be the case if you have a noisy conservatory roof! Is the noise of rain or hail, spoiling the bliss of sitting in your conservatory? If so, then our helpful advice on reducing rain sound on a conservatory roof could be just what you need.
What causes rain to sound so loud?
The winter of 2019-2020, has been one of the wettest on record. And with the advent of global warming, this trend is set to continue. If the noise of constant rain is making your conservatory dismal space, it would be a good time to look for the reasons why.
If your conservatory has a polycarbonate roof, you might not have to look far for the answer. Polycarbonate roofs were once a very popular choice for conservatories, due to their lightweight nature, and affordability. However, polycarbonate roofs are not known for their soundproofing qualities. Indeed, it can often sound as if pebbles are being thrown on your roof when it rains, making conversation very difficult. Likewise, polycarbonate roofs also struggle to stay at a comfortable temperature in different seasons. They are often really hot in summer and freezing in winter.
To repair or replace, which is the best option?
If you want to enjoy your conservatory all year round, without the deafening noise of rain, what options are available? Don't be fooled by online companies claiming to have cheap, quick fixes. If it seems to be too good to be true it probably is. If your conservatory roof makes your space too noisy, hot or cold, it might be time to consider replacing it. A new roof will dramatically change your conservatory and make it a place you can enjoy again.
What conservatory roofing options are available?
A glass conservatory roof will provide your conservatory with arguably the best access to light.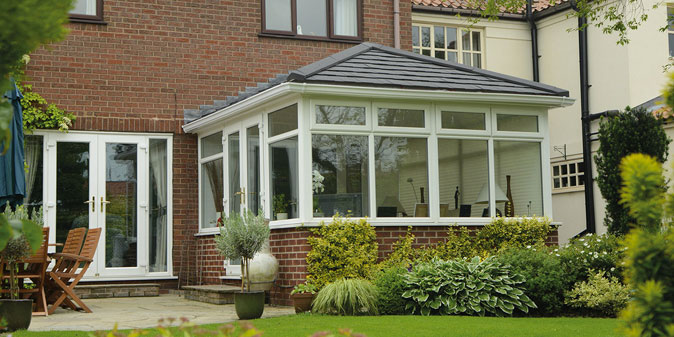 Unquestionably a new glass roof will give your room a bright and airy feel, whilst also bathing it in warmth. Advances in technology mean glass roofs are also far more climate and energy-efficient than their polycarbonate counterparts. Perfect for keeping your conservatory comfortable through all seasons!  Glass roofs can be beautifully designed to meet your individual specifications. Having a glass roof fitted to your existing conservatory will really bring your old conservatory back to its former glory!
An increasingly popular conservatory replacement roof option is a tiled roof. Tiled conservatory roofs offer amazing thermal performance and superb noise reduction. Furthermore, they offer the flexibility to really personalise the result. Choose to have additional skylights, different colour tiles, and a customisable roof pitch. The plastered ceiling also allows you to add beautiful finishing touches, such as stylish spotlights, or built-in speakers. Tiled conservatory roofs can be fitted in a matter of days. Meaning, your once noisy space can be quickly turned into a tranquil room you can enjoy all year round. Quite simply, the beauty of tiled conservatory roofs is they create the feeling of an extension, at a fraction of the price
Stylish conservatory roofs for all seasons with your Devon home in mind
Renaissance Conservatories have been transforming conservatories throughout Devon for many years.  If you would like more information on replacing your noisy conservatory roof, call our team on 01626 333 393. Alternatively, contact us online, and arrange a free, no-obligation quote.